Box Tops
Dear Parents and Guardians,
Welcome to another great year at Nell Holcomb School! My name is Mrs. Pat Nelson and I'm the volunteer coordinator for Box Tops for Education. This year, our goal is to raise $500 to purchase books for our school library.
Box Tops offers three easy ways to earn cash for our school through everyday activities such as buying groceries, shopping online and purchasing books.
Clip — Clip Box Top coupons from hundreds of participating products and send them to school.  Box Tops coupons are worth 10¢ each when our school redeems them from Box Tops for Education.
Shop — Shop at your favorite online stores through the Box Tops MarketplaceSM (btfe.com/marketplace). Up to 8% of each qualifying purchase is automatically donated to our school.  There is no additional cost to your purchase and many exclusive deals and discounts can be found!
Buy books — Purchase books online at Barnes & Noble through the Box Tops Reading RoomSM.  Our school will receive 6% of your new book purchases and 3% of all other online purchases.
One of the easiest ways you can help is to sign up to support our school at btfe.com. You will learn about new and easy ways to help our school earn the extra cash it needs.

Exclusive web benefits:

See how much our school is earning with Box Tops

Enter online promotions for chances to win Bonus Box Tops

Print money-saving coupons for your favorite Box Tops brands

Make mealtime easier with family-pleasing recipes
Plus, you can sign up for email newsletters to receive new product updates, and Box Tops members-only deals and discounts at Box Tops MarketplaceSM retail stores. 
To learn more, visit btfe.com—and thanks for choosing to make a difference for our school with Box Tops!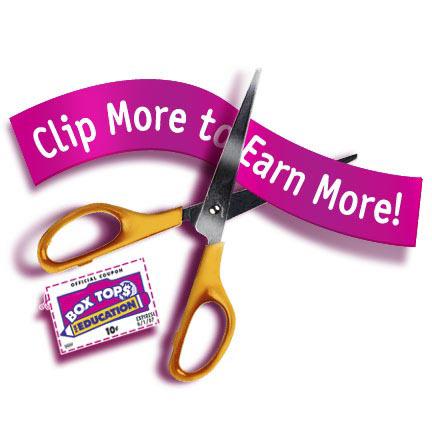 Sincerely,
Mrs. Pat Nelson, Librarian
---
Earn cash for our school every time you shop for groceries. Clip Box Tops from hundreds of your favorite products.
* Each Box Tops coupon is worth 10¢ to our school—and that adds up fast!
 
BAKING
Desserts:
• Almond Joy® Dessert Bar Mix
• Betty Crocker Complete Desserts®
• Betty Crocker® Cookie Mix
• Betty Crocker® Frosting
• Betty Crocker® Gluten Free Brownie Mix
• Betty Crocker® Gluten Free Cake Mix
• Betty Crocker® Gluten Free Cookie Mix
• Betty Crocker® Sunkist® Lemon Bars
• Betty Crocker® Supreme Brownie Mix
• Betty Crocker® Variety Dessert Mixes
• Betty Crocker® Warm Delights® Desserts
• Betty Crocker® Warm Delights® Minis
• Reese's® Dessert Bar Mix
• Heath Bar® Dessert Bar Mix
Breads, Muffins and Rolls:
• Betty Crocker® Cornbread & Muffin Mix
• Betty Crocker® Muffin Mixes
• Betty Crocker® Premium Muffin & Quick
Bread Mix
• Betty Crocker® Pancake Mix Boxes
• Betty Crocker® Quick Bread Mix
• Betty Crocker® Pizza Crust
• Bisquick® Baking Mix Boxes
• Bisquick® Heart Smart® Mix
• Fiber One™ Complete Pancake Mix
• Fiber One™ Muffin Mix
Flour
• Gold Medal® 10# Unbleached Flour
• Gold Medal® 25# All Purpose Flour
• Gold Medal® 4.25lb Zipped Bag
BEVERAGES
Nestle® Juicy Juice®
Nestle® Juicy Juice® Harvest Surprise®
CEREAL
Basic 4®
Cheerios® Cereals:
• Cheerios®
• Apple Cinnamon Cheerios®
• Banana Nut Cheerios®
• Berry Burst Cheerios®
• Cheerios Crunch™
• Frosted Cheerios®
• Fruity Cheerios®
• Honey Nut Cheerios®
• MultiGrain Cheerios®
• Oat Cluster Cheerios®
• Team Cheerios®
• Yogurt Burst Cheerios®
Cascadian Farm® Cereals:
• Cinnamon & Raisin Granola
• Cascadian Farm® Dark Chocolate Almond
Granola
• Cascadian Farm® Fruit & Nut Granola
• Cascadian Farm® Hearty Morning®
• Cascadian Farm® Purely O's®
• Cascadian Farm® Clifford™ Crunch
• Cascadian Farm® Honey Nut O's
• Cascadian Farm® Maple Brown Sugar
Granola
• Cascadian Farm® Multi-Grain
• Cascadian Farm® Oats & Honey Granola
• Cascadian Farm® Vanilla Almond Crunch
• Cascadian Farm® Raisin Bran
Chex® Cereals:
• Chex®
• Chocolate Chex®
• Cinnamon Chex®
• Corn Chex®
• Honey Nut Chex®
• Multi-Bran Chex®
• Rice Chex®
• Strawberry Chex®
• Wheat Chex®
Cocoa Puffs® Cereals:
• Cocoa Puffs®
• Cocoa Puffs® Combos
Cookie Crisp® Cereals:
• Cookie Crisp®
• Double Chocolate Cookie Crisp®
• Peanut Butter Cookie Crisp®
Country® Corn Flakes
Curves™ Cereals:
• Curves™ Fruit and Nut Crunch Cereal
• Curves™ Honey Crunch
• Curves™ Whole Grain Crunch
Disney's® Cereals:
• Disney's® Little Einsteins™ Fruity Stars
• Disney's® Mickey Mouse Clubhouse Berry
Crunch
• Disney's® My Friends Tigger & Pooh Corn
Puffs
• Disney's® Princess Fairytale Flakes
Dora The Explorer®
Fiber One® Cereals:
• Fiber One®
• Fiber One® Caramel Delights™
• Fiber One® Honey Clusters®
• Fiber One® Raisin Bran Clusters®
Golden Grahams®
Honey Nut Clusters®
Kix® Cereals:
• Kix
• Berry Berry Kix®
LaLechera®
Cinnamon Toast Crunch® Cereals:
• Cinnamon Toast Crunch®
• French Toast Crunch®
Lucky Charms® Cereals:
• Lucky Charms
• Berry Lucky Charms®
• Chocolate Lucky Charms®
Nature Valley® Cereals:
• Nature Valley® Cinnamon
• Nature Valley® Oats 'n Honey
• Nature Valley® Organic Vanilla Nut
Oatmeal Crisp® Cereals
• Oatmeal Crisp® Crunchy Almond
• Oatmeal Crisp® Hearty Raisin
• Oatmeal Crisp® Maple Brown Sugar
Para Su Familia Raisin Bran
Raisin Nut Bran
Reese's® Puffs®
Total® Cereals:
• Total®
• Total® Brown Sugar & Oat
• Total® Cinnamon Crunch
• Total® Cranberry Crunch
• Total® Honey Clusters ®
• Total® Raisin Bran
• Total® With Strawberries
• Total® Vanilla Yogurt
• Whole Grain Total®
Trix®
Wheaties®
FROZEN
Green Giant® Vegetables:
• Green Giant® Bagged Vegetables with Sauce
• Green Giant® Frozen Complete Skillet Meals
• Green Giant® Giant Bites™ Vegetables
• Green Giant® Just For One!® Vegetables
• Green Giant® Nickelodeon® Frozen Bagged
Vegetables
• Green Giant® Select Vegetables
Pillsbury® Microwave Biscuits
Pillsbury® Toaster Strudel® Pastries
Totino's® Pizza Rolls® Pizza Snacks
MEALS & SIDES
Betty Crocker® Potatoes:
• Betty Crocker® Casserole Potatoes
• Betty Crocker® Potato Buds® Mashed
Potatoes
• Betty Crocker® Seasoned Mashed Potatoes
Helpers:
• Hamburger Helper®
• Hamburger Helper® Microwave Singles®
• Hamburger Helper® Microwave Singles® Cup
• Chicken Helper®
• Chicken Helper® Microwave Singles®
• Tuna Helper®
Old El Paso®:
• Old El Paso® Taco Shells
• Old El Paso® Tortillas
• Old El Paso® Dinner Kits
Suddenly Salad® Mixes
Wanchai Ferry™ Dinner Kits
REFRIGERATED & DAIRY
Cookies and Bars:
• Pillsbury® Brownie Batter
• Pillsbury® Create 'n Bake® Cookies
• Pillsbury® Ready To Bake! ™ Cookies
• Pillsbury® Simply Bake® Bars
Breads and Rolls:
• Pillsbury® Crescent Rolls
• Pillsbury® Crescent Rounds
• Pillsbury® Flaky Twists
• Pillsbury® Grands! ® Biscuits
• Pillsbury® Grands! ® Sweet Rolls
• Pillsbury® Pizza Crust
• Pillsbury® Sweet Rolls
Yogurt:
• Yoplait® Go-GURT® Fizzix™ Yogurt
• Yoplait® Trix® Multipack Yogurt
• Yoplait® Go-GURT® Yogurt
• Yoplait® Kids Yogurt
• Yoplait® Kids Yogurt Drink
SNACKS
Caribou Coffee® Bars
Cascadian Farm® Granola Bars
Cascadian Farm® Sweet & Salty Bars
Cheerios® Snack Mix
Chex Mix® Bars
Chex Mix® Snack Mix
• 100 Calorie Chex Mix® Snack Mix
• Chex Mix® Select Snack Mix
Curves™ Snack Bars
Dunkaroos® Snacks
Fiber One® Bars
Fiber One™ Toaster Pastries
Fruit-Flavored Shapes:
• Batman™ Fruit Flavored Shapes
• Care Bears™ Fruit Flavored Shapes
• My Little Pony™ Fruit Flavored Shapes
• Polly Pocket™ Fruit Flavored Shapes
• Fairytale Princess® Fruit Flavored Shapes
• Scooby-Doo™ Fruit Flavored Shapes
• Shark Bites Fruit Flavored Snacks
• Spider-Man® Fruit Flavored Shapes
• Teenage Mutant Ninja Turtles™ Fruit
Flavored Shapes
• Tonka™ Fruit Flavored Shapes
• Transformers Fruit Shapes
Fruit Flavored Snacks:
• Betty Crocker® Fruit Gushers®
• Betty Crocker® Fruit by the Foot®
• Betty Crocker® Fruit Flavored Snack Variety
Pack
• Betty Crocker® Fruit Roll-Ups®
• Fruit by the Foot® Crazy Feet
• Fruit Roll-Ups® Crazy Pix™
• Fruit Roll-Ups® Fruit Stickerz™
• Fruit by the Foot® Mini Feet
• Fruit Roll-Ups® Mini Rolls
Golden Graham® Snack Bars
Milk 'n Cereal Bars
Nature Valley® Granola Bars:
• Nature Valley® Chewy Granola Bars with
Yogurt
• Nature Valley® Chewy Trail Mix Bars
• Nature Valley® Crunchy Granola Bars
• Nature Valley® Healthy Heart Chewy
Granola Bars
• Nature Valley® Nut Clusters
• Nature Valley® Roasted Nut Crunch Bars
• Nature Valley® Sweet & Salty Nut Granola
Bars
BABY & CHILD CARE
COTTONELLE® products:
• COTTONELLE® For Kids Bath Tissue
• COTTONELLE® For Kids Flushable Moist
Wipes
GOODNITES® products:
• GOODNITES® Sleep Pants/Sleep Shorts
• GOODNITES® Underpants
HUGGIES® products:
• HUGGIES® Baby Wipes
• HUGGIES® Clean Team® Products
• HUGGIES® Diapers
• HUGGIES® LITTLE SWIMMERS® Swim Pants
• HUGGIES Natural Care® Diapers
• HUGGIES® Snug'n Dry Diapers
• HUGGIES Supreme® Diapers
PULL-UPS® Training Pants
SCHOOL & OFFICE SUPPLIES*
• Avery® Heavy Duty Binders
• Avery® Durable Binders
• Avery® Flexible Binders
• Avery® Silhouette™ Binders
• Avery® Recycled Chipboard Binders
• Avery® Index Maker Dividers
• Avery® Insertable Dividers
• Avery® Write-On Dividers
• Avery® Ready Index Dividers
• Avery® Sheet Protectors
• Avery® Report Covers
• Avery® Glue Stic
• Hi-Liter® Highlighters
• Marks-A-Lot® Dry Erase Markers
• Marks-A-Lot® Permanent Markers
• Avery® Light T-Shirt Transfers
• Avery® Dark T-Shirt Transfers
• Avery® Stretchable T-Shirt Transfers
• Avery® Sticker Paper
• Avery® Magnet Sheets
• Avery® Address Labels
• Avery® Shipping Labels
• Avery® File Folder Labels
• Avery® ID Labels
• Avery® Name Badges
STORAGE BAGS & CONTAINERS
Storage Bags:
• Ziploc® Brand Big Bags
• Ziploc® Brand DoubleGuard® Freezer Bags
• Ziploc® Brand Easy Zipper Freezer Bags
• Ziploc® Brand Easy Zipper Storage Bags
• Ziploc® Brand Evolve® Bags
• Ziploc® Brand Expandable Bottom Bags
• Ziploc® Brand Flexible Totes
• Ziploc® Brand Freezer Bags
• Ziploc® Brand Fresh Produce Bags
• Ziploc® Brand Sandwich Bags
• Ziploc® Brand Snack Bags
• Ziploc® Brand Storage Bags
• Ziploc® Brand Treat Bags
• Ziploc® Brand Vacuum Bags
• Ziploc® Brand Zip 'n Steam™ Bags
Containers:
• Ziploc® Brand Snap 'n Seal Containers
• Ziploc® Brand Twist 'n Loc® Containers
PAPER PRODUCTS
Bath and Facial Tissue:
• COTTONELLE® Bath Tissue
• COTTONELLE® Bath Tissue Ultra
• COTTONELLE® Bath Tissue with Aloe & E
• COTTONELLE® For Kids Bath Tissue
• KLEENEX® Anti-Viral Tissue (25 & 112 count)
• KLEENEX® Facial Tissue (200, 240 & 280
count)
• SCOTT® 1000 Count Bath Tissue
• SCOTT® Extra Soft Bath Tissue
Towels & Napkins:
• KLEENEX® Dinner Napkins (50 count)
• SCOTT® Paper Towels
• SCOTT® Rags in a Box
• SCOTT® Shop Towels
• VIVA® Paper Towels
Wipes:
• COTTONELLE® For Kids Flushable Moist
Wipes
• COTTONELLE FRESH® Flushable Moist Wipes
• HUGGIES® Baby Wipes
• SCOTT® Pre-Moistened Wipes
PERSONAL CARE
KOTEX® products:
• KOTEX® Lightdays® Pantiliners
• KOTEX® Maxi Pads
• KOTEX® Security® Tampons
• KOTEX® Ultra Thin Pads
POISE® products:
• POISE® Liners
• POISE® Pads
DEPEND® products:
• DEPEND® Underwear for Men
• DEPEND® Underwear for Women
DISPOSABLE TABLEWARE & COOKWARE
Disposable Cookware
• Hefty® EZ Foil® Pans
Disposable Cups:
• Hefty® Clear Colors Disposable Cups
• Hefty® Crystal Clear Disposable Cups
• Hefty® Easy Grip® Disposable Cups
• Hefty® Zoo Pals® Cups
Disposable Plates and Serveware:
• Hefty® Crystal Clear Plates
• Hefty® Elegantware® Plates and Bowls
• Hefty® Everyday Foam Plates and Bowls
• Hefty® Hearty Meals™ Plates and Platters
• Hefty® Superweight™ Plates and Bowls
• Hefty® Supreme™ Plates and Bowls
• Hefty® Zoo Pals® Funtensils
• Hefty® Zoo Pals® Plates and Bowls
WASTE BAGS
• Hefty® Cinch Sak® Waste Bags
• Hefty® EasyFlaps® Waste Bags
• Hefty® The Gripper® Tall Kitchen Waste Bags
• Hefty® Kitchen Fresh® Tall Kitchen Waste
Bags
• Hefty® Ultra Flex™ Waste Bags
PRODUCTS WITH LIMITED AVAILABILITY
Avery® Permanent Markers
Cereals:
• Boo Berry® Cereal
• Count Chocula® Cereal
• Country® Corn Flakes
• Franken Berry® Cereal
• Kaboom® Cereal
Desserts:
• Hershey's® Brownie Mix
Meals:
• Macaroni Grill® Multi-packs
• Progresso® Soup Multi-packs
• Rose Totino's® Air Crisp Pizza
Pappalo's® Pizza Snacks