What is PBS?
...Also Known As "Schoolwide Positive Behavior Support" or SW-PBS
Definition of Schoolwide Positive Behavior Support (SW-PBS)
SW-PBS is a process for creating safer and more effective schools by structuring the learning environment to support the academic and social success of all students. The process supports the adoption and long-term implementation of efficient and effective discipline throughout the school environment. SW-PBS methods are research-based, proven to significantly reduce the occurrence of problem behaviors in schools, and supported by a three-tiered model.
THREE-TIERED SYSTEM OF SUPPORT
CONTINUUM OF SCHOOLWIDE INSTRUCTIONAL
AND POSITIVE BEHAVIOR SUPPORT
TIER ONE: Universal/primary prevention strategies are implemented schoolwide and classroomwide.
TIER TWO: After the universal/primary strategies are in place, some efforts (specialized group systems).

TIER THREE: After universal/primary and secondary strategies have been
utilized, there might be a small percentage of students who require
specific, individualized behavioral interventions.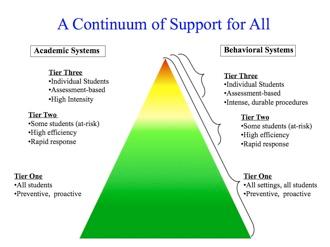 What do effective SW-PBS schools consistently implement?

Effective SW-PBS schools consistently implement the Seven Essential Components at each of
the three tiers. These components are individually and collectively research-based.

The Seven Essential Components
1. Administrative support, participation and leadership
2. Common purpose and approach to discipline
3. Clear set of positive expectations and behaviors
4. Procedures for teaching expected behaviors
5. Continuum of procedures for encouraging expected behaviors
6. Continuum of procedures for discouraging inappropriate behaviors
7. Procedures for ongoing monitoring
PBS TEAM MEMBERS
Mary Boeller, Principal
Jill Lynn, Technology Coordinator
Zech Payne, Jr. High
Gretchen Dunivan, Music
Rhonda McClanahan, Counselor
Jennifer Conklin, Kindergarten
Laura Seyer, Title I Reading
Corey Campbell, Jr. High
Ursulla Wadley, Second Grade
Kacie Brumbaugh, First Grade
Susan Koch, First Grade
Jennifer Byrum, Second Grade