MEET THE "NEW GUY"
Principal Mr. Wortmann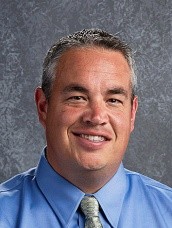 One of Nell Holcomb's newest additions this year is Principal Mike Wortmann. He was born and raised in St. Louis where he attended a small parochial school that had a population of 180 students (even smaller than Nell Holcomb). In 1992 he graduated from Bishop DuBourg High School in South City. After High School, he attended Southeast Missouri State University and received a degree in Elementary Education with an extended certification in Early Childhood. Once he completed his bachelor's degree from SEMO, he took a 4th grade teaching position at Perryville Elementary School. Wortmann taught in the classroom for approximately 10 years before he decided to enter administration.
In 2008, Wortmann completed his degree in School Administration from William Woods University and in 2009 became the Assistant Principal at Perryville Elementary School and remained there for 6 years. During his time as Assistant Principal, he furthered his education and completed his Specialist Degree in School Administration from William Woods University.
Mr. Wortmann is very excited about being part of the Nell Holcomb School family. He hopes to bring the knowledge about curriculum instruction he has learned from a large school setting to Nell Holcomb, while maintaining the personalized instruction and compassion of a small school.